Lake Tarpon Fishing Charters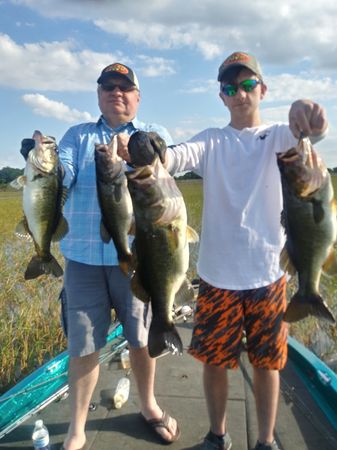 Lake Tarpon is centrally located in Tarpon Springs close to Clearwater Beach in the Tampa Bay area. Lake Tarpon is located 10 miles west of Tampa. Lake Tarpon has been ranked top 10 lakes in Florida to fish for years.  It is the largest lake in Pinellas County. The lake is 2500 acres and 9 miles long.  It includes 2 of the largest tributaries which is South Creek and Brooker Creek. Lake Tarpon has 2 beautiful county parks one being John Chestnut Senior Park and A.L. Anderson Park. Lake Tarpon has a lot of opportunities to catch large bass because of its deep contours and variety grass beds. Lake Tarpon held the state record with a 19.06 pounds large mouth bass. Lake Tarpon is known for large bass around 10+ pounds.  Many tournaments fished it has taken over 20 pounds of large mouth bass to have a chance of winning. Lake Tarpon is good for flipping biggie whips in  spawn or fishing off shore grass with lipless crankbaits. If you are looking for your trophy double digit bass golden shiners are always a good bet for your Lake Tarpon trophy. You can catch large numbers of large mouth bass and some salt water species like snook.  Lake Tarpon is a hidden gem close to Tampa. Book your next Tarpon Springs Charters for all your bass fishing needs!
What you will see
Alligators, Bald Eagles, Osprey's, variable species of ducks and you will see  deer doing free in the beautiful preserves while on your private Florida guided trip in the Tampa Bay area.