Discover the Best Florida Fishing Charters in Orlando
Florida natives and visitors alike agree the Sunshine State proves particularly enjoyable when experienced on the water.  When you're not fishing, you can enjoy all that Orlando has to offer, including its many theme parks, water parks, and dining and entertainment options. Though Disney World certainly has its merits, few experiences compare to a guided fishing expedition. Horizon Fishing Charters is proud to be one of the best Florida fishing charters in Orlando. Lean on us to head your Orlando fishing expedition and you will be liberated to square your focus on catching fish, enjoying cool refreshments, and hanging out with your friends and family.  It simply does not get any better than that.
Orlando Bass Fishing Done Right
If you are on the prowl for one of the best Florida fishing charters in Orlando, contact Horizon Fishing Charters for a bass fishing guide.  Our company is one of the best Florida fishing charters in Orlando. We go out of our way to ensure you and your party have a blast on Horizon Fishing Charters where you will catch more than your fair share of fish, making lasting memories.  We are here to focus on the boat, finding just the right fishing location and maximizing your chances of catching fish.
Our captains will do all the work while you are fully focused on having fun in the sun.  Our captains have been fishing on Lake Toho and Lake Tarpon for decades.  They know exactly where the fish bite, the optimal time of day to fish, and all the other subtleties of ensuring a fishing expedition turns out successful. Let our captains lead the way to your Orlando bass fishing charter and you will be more than pleased with your fishing experience in Orlando.  In fact, we are even willing to promise someone in your party will catch at least one fish.  If no one in your crew hauls in a fish, you won't pay a penny for your fishing charter!
An Inside Look at Lake Toho Fishing
Positioned in beautiful Central Florida, Lake Toho is a large lake located in Kissimmee, Florida, and is a popular destination for fishing. The "Toho" moniker is derived from "Tohopekoliga", meaning "gather together" in the Seminole Indians' native tongue.  The lake's primary inflow stems from Orlando's Shingle Creek. The lake is famous for its large and plentiful populations of largemouth bass, black crappie, and bluegill. This is the top big bass lake in the entire country. Anglers from all over the world come to Lake Toho to test their skills and try their luck at catching these prized fish.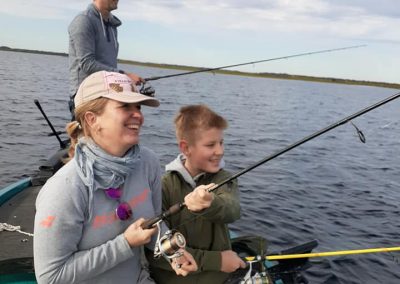 The best time to fish on Lake Toho is during the warmer months, when the fish are most active and easier to catch. During this time, anglers should focus on fishing in the deeper waters, where the bass and crappie are commonly found. A variety of techniques can be used to catch fish on Lake Toho, including trolling, casting, and jigging.
No matter what your skill level or fishing experience, Lake Toho is sure to provide a memorable and enjoyable fishing experience. Whether you are looking to catch trophy-sized bass, or simply want to spend a relaxing day on the water, Lake Toho is the perfect destination to find a bass fishing guide so you can enjoy fishing on one of the best Florida fishing charters in Orlando.
Hop on board one of the best Florida fishing charters in Orlando for your fishing expedition and you just might catch trophy-worthy largemouth bass.  All in all, Lake Toho spans nearly 23,000 acres.  In fact, Dean Rojas caught a record 45-pound day bag in these waters.  You have the chance to top this record with the guidance of our Orlando fishing experts.  Let our team lead the way and you are sure to enjoy a truly unforgettable fishing experience.
One of the Best Florida Fishing Charters in Orlando
Are you ready to hit the water?  Let our captains spearhead your fishing adventure and you will be ecstatic with the experience.  Reach out to Horizon Fishing Charters today to learn more about our fishing on one of the best Florida fishing charters in Orlando.  You can contact us by dialing 727-644-9669 or 407-433-5108.  If you prefer to reach us online, simply fill out our convenient online contact form and we will be in touch.